So today I'll be doing the Monday Minute found at
The Daily Dose of Reality
. As you guys remember from my previous post, I'm up for hosting the monday Minute and I'm up against quite a few other entries. Ian is going to do a vote starting on Wednesday, so PLEASE go to the above link and vote for me! I would REALLY appreciate your vote. Read my previous post to see if you think I deserve it based on our "inspirational" stories. I'll bother you some more about it later this week, but for now, our questions...
1 - Who is your favorite childhood superhero?
Hmm...I actually never really had one, but if I DID have to choose, I would say Cat woman. Her outfit is so damn sexy! I don't really know much about her except for the fact that Halle Berry got a Razzie for her performance in the Cat woman movie, but like I said, hella sexy outfit.
Maybe this should be my Halloween outfit for Evan? haha.
I must admit, if it wouldn't have said childhood, I totally would have said Aquaman, just because I want to mention Entourage...did anybody else see the season finale last night? Holy hell batman! Vince has freaking gone off the deep end. That porn star is a BAD influence on him (could have guessed that huh?)!!
2 - List something you have done for pure shock value.
Ok, I feel REALLY lame, because I don't have a good answer to this question! I RARELY do something without first thinking it over. I suppose the only thing I can think of is when Evan and I went to Santa Fe in my second trimester. I was sitting on our couch and started having a mid life crisis thinking that soon Evan and I wouldn't have any romantic weekends because babies were coming in to the picture. So, I sent him a text and said "Let's go to Santa Fe, I'm about to make hotel reservations." An hour later, I had everything set and we left the next morning. It felt good to be spontaneous and even though we drove 10 hours and were only there for 24 hours, it was still nice to do our last "us" thing.
Our little hotel room in Santa Fe!
It was SO cute...had a living room, a kitchen, a great bathroom and was REALLY affordable!
3 - What is the most recent thing someone has said/done to you that left you picking your jaw up off of the floor.
I don't know if this is the most recent, but it was the one that first came to my mind. A few months ago, we were at the Parade of Homes and a woman came up to Liliana and told her friend, "Look at this baby with that DARK skin!"
Umm...are you freaking kidding me? She does know that not everybody in the world is white right?
Wow...we didn't even know how to react. Liliana's not even THAT dark. She just looks like a Hispanic baby (which she is). Sometimes I think people in Lubbock don't get out much.
4 - Do you have a moment where you gained clarity about your life?
When I was pregnant, I suddenly realized that there were things that mattered more in life than a grade on an exam. Up until being pregnant, I lived every day to study and study some more. But throughout my pregnancy, since it was a pretty tough one, I literally COULD NOT study all the time. I had my head in a trash can or toilet too much to study. And, this was good for me. I realized that I still survived, I still graduated law school JUST FINE, and my body was growing a pretty baby. It made me realize that the people around you will ALWAYS give you a feeling of happiness, and a good grade on a paper will be short lived.
5 - What are you doing to achieve your biggest dream?
My biggest dream was to be happily married, graduate from law school, and have a baby. I had achieved all those and felt so empty still...so, I think I realized that I needed another dream, and that was to be happy with my career. I'm on my way to doing that. And, in order to get this done, I better get back to studying!
FIRST
though, I just want to thank
Losing the Baby Weight
for giving me a sweet blog award!
And, I want to thank
The Redhead Riter
for choosing ME as the spotlight friend and rockin friend. THANK YOU!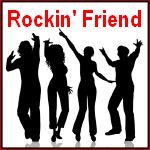 Don't forget to go HERE on Wednesday and PLEASE vote for me! I'll remind you guys again, don't worry.